Jour 2: à la découverte de Victoria, capitale des Seychelles...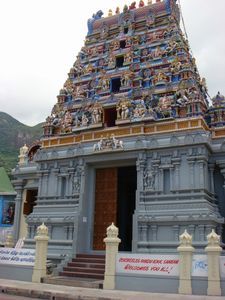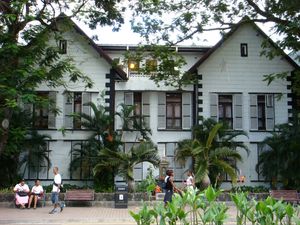 The Hindu temple off Quincy Street ---- a pretty colonial-style house off St Fracis Rachel Street.
La capitale de Viictoria, à 23000 habitants est une des plus petites capitales du monde. C'est très bien, l'ambiance y est plutôt détendue, et le soleil qui s'étire paresseusement dans ses rues contribue au sentiment général de quiétude de la ville. Architecturalement parlant, Victoria ne regorge pas de trésors à ne pas rater, mais possède un charme certain qui relève plus de la vie qui s'y écoule que des qualités photogéniques ou de la géométre de ses bâtiments (on voit se profiler l'excuse: je n'ai presque pas pris de photos de la ville!!
lol).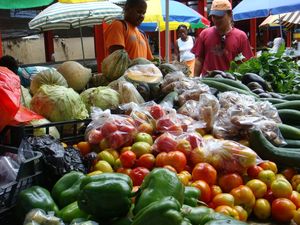 Notre but premier en venant à Victoria: le marché couvert de Sir Selwyn Selwyn Clarke market, une réserve de poissons frais pétillants, de fruits aux couleurs vives et d'épices parfumées! Un bonheur. Déjeuner au restaurant qui surplombe le marché pour prolonger l'expérience, un curry de crevettes: ****.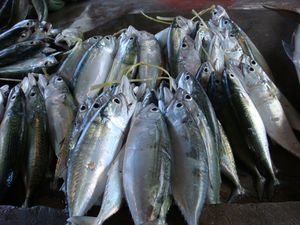 catch of the day - and the beautifully-coloured, and deliciously-tasting parrotfish (cacatois in French)
-----
On our second day, we're off to Victoria, Sechelles' capital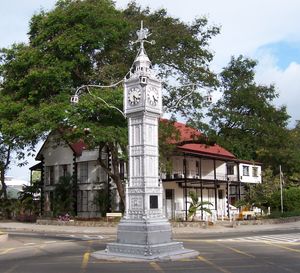 The famous clocktower, a replica of London's Vauxhall Bridge clocktower (this photo B.Navez, 2004, under GNU Free Documentation License)
Victoria is probably one of the smallest capitals in the world: 23,000 inhabitants. Its relaxed pace won't overwhelm you like some other - bigger - capitals. The relative hustle and bustle is especially noticeable in the market, in the centre of town, but the general pace is relaxed.
The covered market (official name: Sir Selwyn Selwyn Clarke Market) was our main motivation for coming to town. No disappointment there: a busy little place, fragrant with spices, brimming with multicoloured fruit and veg enhanced by the silver undertones of the slippery fish livery (note the attempt at poetical description here!).
We bought curry spices, a few souvenirs, and then ate at the restaurant above the market. Shrimp curry : ****.
The afternoon was divided between the marina (to buy our boat tickets to Praslin), a few shops scattered on the way (it would have been rude not to!

) and strolling the lazy streets. Our thirst later dragged us to the Pirate's Arms, a fairly touristy place, big, not particularly friendly or interesting, although lots of people, including a few locals, seemed to patronise the place. A good spot to spy the opposite building in which dancing classes where taking place!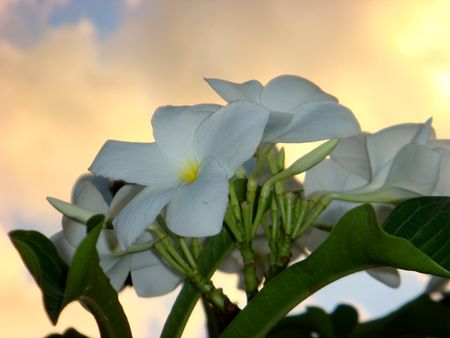 Early sunset over the graceful frangipani flowers in Saint Paul's cathedral square, Victoria, Seychelles.